Social Media
社交媒体运营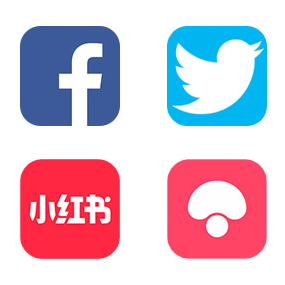 Utilizing social media platforms to maximize our clients' online presence and impact. In addition, we combine an innate understanding of social media with digital, marketing and PR.
Furthermore, Our team helps clients to understand the impact that social media is having on their organization, bridging the traditional media with the new.
We provide marketing services to domestic businesses, targeting Chinese international students and new immigrants. Our team assists clients by focusing on linking them to the Chinese market. Moreover, thanks to the extensive knowledge about the Chinese community, we empower our clients to succeed in the Chinese market both locally and internationally.
If you currently plan to expand your business into a new market such as the Chinese community, we'd love to provide comprehensive support at various levels to meet your marketing needs. Feel free to contact us!
我们的团队致力于帮助客户了解社交媒体对其品牌的帮助力,将传统媒体与新媒体联系起来,利用社交媒体平台最大限度地提高客户的在线形象和影响力。
出于对华人社区的广泛了解,我们使我们的客户能够在本地和国际的中文市场中取得成功。通过将客户与中国市场联系起来,为加拿大本地企业提供针对中国留学生和新移民的营销服务。
如果您目前计划将您的业务扩展到一个新的市场,例如华人社区,我们很乐意提供多层次的全面支持,以满足您的营销需求,欢迎与我们联系!